I had a Wonderful Surprise in the post today,
I cant thank you enough for sending me such a gorgeous parcel Kay and I cant wait to read them.
XxX
I love the poster and card too!
Thank you so much for signing inside both books that means alot to me.
Thank you sooo Much Kay!
XxX
Take a peek at
Kay's site
to read up on these latest releases.
Erotica on a canvas of bondage and discipline!
Maddie Templeton has always been an unconventional artist. Themes of submission and domination pulse through her erotic artwork, and she's happily explored these lustful themes both on and off the canvas.
But, when Theo Hunter enters her life, she is presented with a new challenge. Maddie sets out to test his resolve as she teases, torments and toys with him. But, as Maddie drives Theo to breaking point, she soon becomes unsure whether her own resolve will hold out!
At the same time, Maddie must put on the exhibition of a lifetime. As the hottest gallery in town clamours for her best work, Maddie pushes her models harder and higher until they are physically, sexually and emotionally exhausted. Will Maddie's models continue to submit to her, or will she push them too far? And will she be ready for the exhibition in time?
The only way to find out is to wait and see…and the waiting only makes it sweeter!
Available in print format from
Amazon UK
and
Amazon US
, and Kindle format from
Amazon UK
and
Amazon US
.
The Collector (New relaunched paperback)
There is a myth that only dominant, slim, basque-clad women write erotica. This anthology breaks away from that misconception.
The 21 stories included in this book have been compiled by an anonymous central narrator referred to as the Collector, who either acquires the tales from a willing third party (Cupboard Lust), or overhears information and fills in the blanks herself (Learning). Not a call girl or a sex club queen, she sits in coffee shops by day, gaining a strange pleasure from writing up her salacious literature in public. Travelling on public transport as much as possible, listening to conversations in restaurants, pubs and cafes, she keeps her eyes and ears open for potential material. When sources run dry the Collector takes matters into her own hands, engineering situations worth writing about by doing some direct research (Treasure). Occasionally she visits the select clubs and private houses of the Home Counties, which guarantee to provide the type of material required to retell the most erotic of adventures (Tequila). Divided into chapters, the stories vary in length from 250 words to c.4000 words. Each tale is pulled together with a short narrative, which offers a brief history to the piece, without frustrating the reader intent on the stories themselves. From New Territory, which provides information about both our narrator and her writing, to Alone, The Collector takes the reader through every gambit of the sexual experience. Lust, submission, dominance, instruction, voyeurism and masturbation, are all observed within the genres of heterosexual, lesbian and solo sex.
HOT OFF THE PRESS
this week is Kay's latest from the Xcite anthologies.
The Best of Kay Jaybee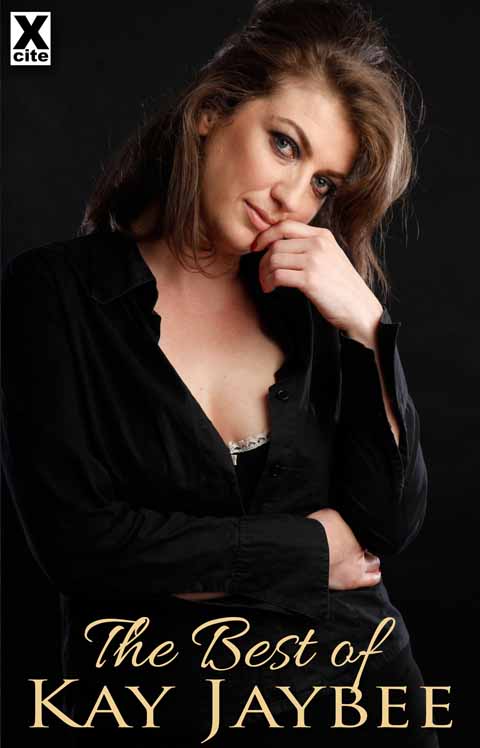 Fourteen of the very best erotic tales of dominance, submission, bondage, and romantic lust, are delivered with lashings of kink from the pen of Kay Jaybee. From the sexual adventures recalled by a woman as she stares at her favourite shirt, to a deliciously dirty orgy on a bed of cardboard boxes, the after-hours education of a rookie soldier, and the bizarre obsession of an Egyptologist, each story shows why Kay Jaybee has been hailed as 'a master of the craft of erotica' (Oysters and Chocolate). As a girl writes messages of lust on the body of her best friend's lover, and a mistress's employment of ropes and chains on her slave co-insides with the application of emulsion, we discover just how Kay has earned her reputation for producing 'super-heated kinky stories,' (Kd Grace), which are 'a sublime pleasure to read' (Violet Blue).
You can buy
The Best of Kay Jaybee
exclusively from
Amazon UK
and
Amazon.com
until January 2013- after which it will be out for general release.