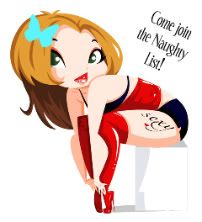 Naughty, Non-Sex Toy Items!
These are items that I have used for fun that wasnt a sex toy.
A hairbrush ..

My ladyshave- this was brilliant alot of vibrations here.

Rolled corner of the duvet.

Wine Bottle,

A beer bottle, I know so dangerous but hey young and stupid,

A remote control, similar to the sky for the sleek curves.

A book, not even erotica....., just a nice hard spine.

A gear stick, it was steel and round..and cold....

An ice-lolly , but cant remember which one.

The best for me was a shower-head on massage jet...wow!!!
I will add more as I remember them, let me know what you have used...anything really unusual, I love to hear from you, i promise I wont tell anyone...?
Take a look at the others who have entered the Naughty list are;